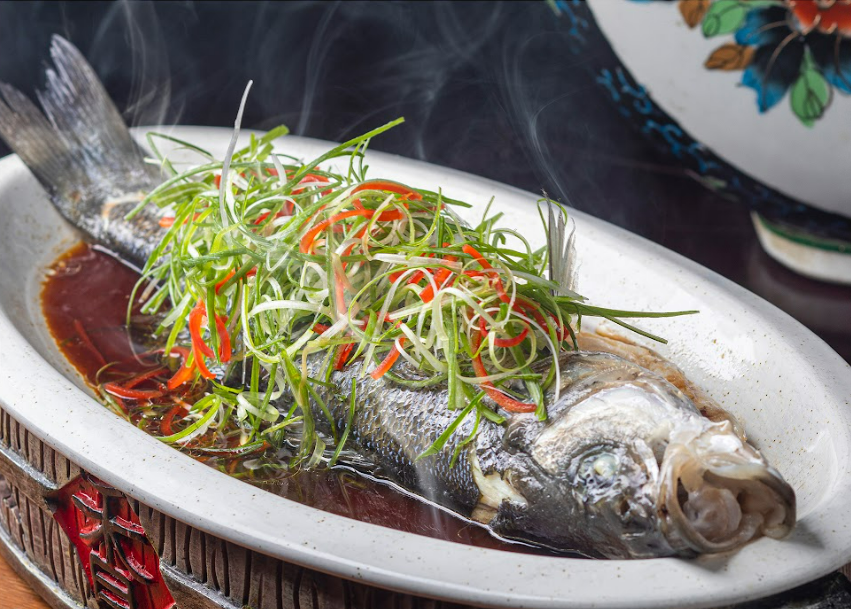 Welcome to Oriental City, where we proudly introduce our signature dish – Steamed Sea Bass, an irresistible delicacy. We insist on using fresh sea bass as the primary ingredient and employ a clever steaming technique to ensure that each bite preserves the authentic flavors and offers a tender texture. This dish is not just a delight to the taste buds but also a representation of the culinary excellence rooted in Chinese tradition, blending profound cultural heritage and culinary artistry.
The uniqueness of Steamed Sea Bass lies in its purity, as it requires no excess seasoning since the ingredients themselves possess inherent freshness. Every mouthful is the highest form of respect for the ingredients, delivering an authentic and unadulterated gastronomic experience. This dish not only satisfies your palate but also allows you to savor the essence of Chinese culinary culture.
___________________________
Located In The Most Lively And Bustling Heart Of Amsterdam, Oriental City Amsterdam Is A High-Quality Cantonese Restaurant With A Profound Cultural Heritage And Innovative Expressions. We Specialize In Dim Sum, Seafood, Roasted Meats (Siu Mei), And Cantonese Food. Under The Value Of 'Taste, Gathering, Heritage', It Is A Pleasant Journey To Enjoy The Most Authentic Cantonese Cuisine At Oriental City.
More Info: Www.Oriental-City.Com
Location: Oudezijds Voorburgwal 177-179, 1012 EV, Amsterdam
Opening Hours
Dimsum Lunch 11:30-17:00 | Dimsum Dinner 17:00-20:00
Monday 11:30-22:00
Tuesday 11:30-22:00
Wednesday 11:30-22:00
Thursday 11:30-22:00
Friday 11:30-22:30
Saturday 11:30-22:30