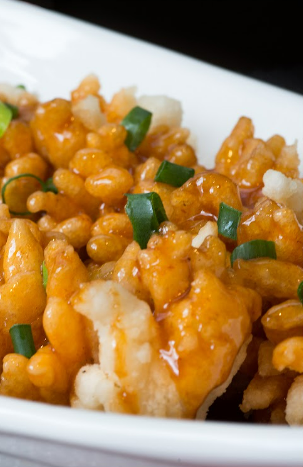 Fried Fish Fillet with Sweet and Sour Sauce is a treasure of our restaurant, blending the essence of both Chinese and Western cuisine to offer you a unique culinary experience. Based on tender fish, paired with sweet and sour sauce, this dish is cooked to perfection, making every bite a delicious feast.
Fried Fish Fillet with Sweet and Sour Sauce not only boasts exquisite flavors but also provides a visual and textural delight. With a crispy exterior and tender interior, it exudes a tantalizing aroma, satisfying your taste buds to the fullest. This is an irresistible delicacy that not only represents our restaurant's culinary art but also takes you on a gastronomic journey that seamlessly combines Chinese and Western culinary traditions. Whether shared with friends and family or savored in solitude, Fried Fish Fillet with Sweet and Sour Sauce is the undisputed choice for your dining pleasure, leaving you craving for more.
___________________________
Located In The Most Lively And Bustling Heart Of Amsterdam, Oriental City Amsterdam Is A High-Quality Cantonese Restaurant With A Profound Cultural Heritage And Innovative Expressions. We Specialize In Dim Sum, Seafood, Roasted Meats (Siu Mei), And Cantonese Food. Under The Value Of 'Taste, Gathering, Heritage', It Is A Pleasant Journey To Enjoy The Most Authentic Cantonese Cuisine At Oriental City.
More Info: Www.Oriental-City.Com
Location: Oudezijds Voorburgwal 177-179, 1012 EV, Amsterdam
Opening Hours
Dimsum Lunch 11:30-17:00 | Dimsum Dinner 17:00-20:00
Monday 11:30-22:00
Tuesday 11:30-22:00
Wednesday 11:30-22:00
Thursday 11:30-22:00
Friday 11:30-22:30
Saturday 11:30-22:30